The "CIRCLE OF LOVE" program portions of this Web site are gathered to assist Catholic Daughters in working with the Church and community. We are indeed very aware of the needs in society that are deeply affecting today's generation, the elderly and human life. To be effective in promoting good works, we must reach out and make a difference in the lives of those who are suffering, whether it be through their own fault or the circumstances in which they find themselves. If we are to be "Jesus hands and feet" as is pledged in the Act of Consecration during the Installation Ceremony, then we must use the talents He gave us, become educated in new fields, volunteer our services and financial assistance where needed.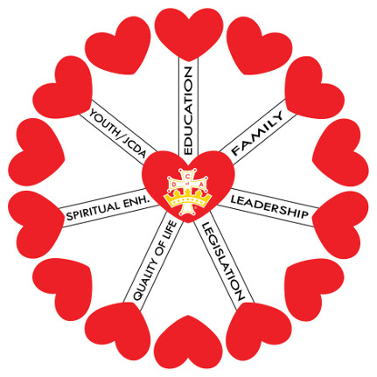 There are seven points to the wheel
The seven points selected indicate the needs of the Church and community best served by the Catholic Daughters. The program itemizes these needs with suggestions on how Catholic Daughters can effectively serve.  The seven points of the program Leadership, Legislation, Quality of Life, Spiritual Enhancement, Youth/JCDA, Education and Family are bound together by Love.  Each Court selects programs they feel will serve the needs of the community they serve, a way to make a difference in the lives of those who are suffering around them.
Wonder where you might fit in?  Where you might be able to make a difference in someone else's life?  CDA is a great place to find your answer – you will find we offer a multitude of opportunities to serve and make your world a better place – listed below are a few such projects.