Need To Pay Dues?
Select "Shop" from menu above, then "add to cart" "CDA Annual Dues"
Saying yes means being part of something bigger than ourselves...
Catholic Daughters of the Americas (CDA) was brought to St. Peter the Apostle Catholic Church in Boerne on March 21, 2015. The CDA is one of the oldest and largest organizations of Catholic women in the Americas. Our shared Motto is "Unity and Charity". They donate to charities, administer scholarship programs and strive "to be helping hands where there is pain, poverty, sorrow or sickness".
And our shared Mission:  CDA strives to embrace the principles of faith, working through love and service in the promotion of justice, equality and the advancement of human rights and human dignity for all. Our service is focused on spiritual growth for those providing a service, as well as the recipients.
The CDA ministry meets every second Tuesday of the month.  We gather at 6:00 p.m. for social time, follow that with the Rosary  @ 6:30 and begin the meeting promptly @ 7 p.m..  Come join us at Upon This Rock Campus, 416 W. Highland Street.
Drum Roll Please …                        
Daughter of the Year
Peggy Pillar 
For always saying yes!  If you need help, she will always be your gal. A lot of what she does is behind the scene and a lot of people don't even know about it. 
Congratulations Peggy!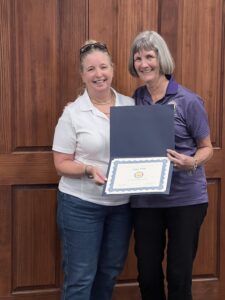 And she won 2nd place - Nationally!!! Nicely done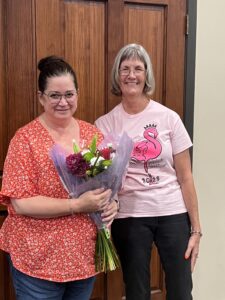 Court #2690's Newsletter won first in state again this year.  
I know Donna Oates felt she had big shoes to fill, when she took over for Ree Laughlin; but she did it
and we could not be more proud.  
Donna your efforts have paid off and you also mange to make us look good!  Thanks and congratulations!  
Please join us in congratulating Donna, on doing such an awesome job!  
We are always striving to make the website easier to use and more informative.
This is where we let you know what's new or different.  We will always value your feedback to make it better.
Why Should I Get Involved? Come join us and find out.
Need more information...can't find something..let us know!
Feel free to contact our Regent for any special concerns or questions
Remember this is YOUR website – any comments or suggestions can be directed to your co-webmasters (and fellow CDA members)