Saying yes means being part of something bigger than ourselves...
What's new on the website....
We are excited to show you some of the new features we have added!
Catholic Daughters of the Americas (CDA) was brought to St. Peter the Apostle Catholic Church in Boerne on March 21, 2015. The CDA is one of the oldest and largest organizations of Catholic women in the Americas. Their motto is "Unity and Charity". They donate to charities, administer scholarship programs and strive "to be helping hands where there is pain, poverty, sorrow or sickness".
CDA strives to embrace the principles of faith, working through love and service in the promotion of justice, equality and the advancement of human rights and human dignity for all. Our service is focused on spiritual growth for those providing a service, as well as the recipients.
The CDA ministry meets every second Tuesday of the month.  We gather at 6:00 p.m. for social time, follow that with the Rosary  @ 6:30 and begin the meeting promptly @ 7 p.m..  Come join us at Upon This Rock Campus, 416 W. Highland Street.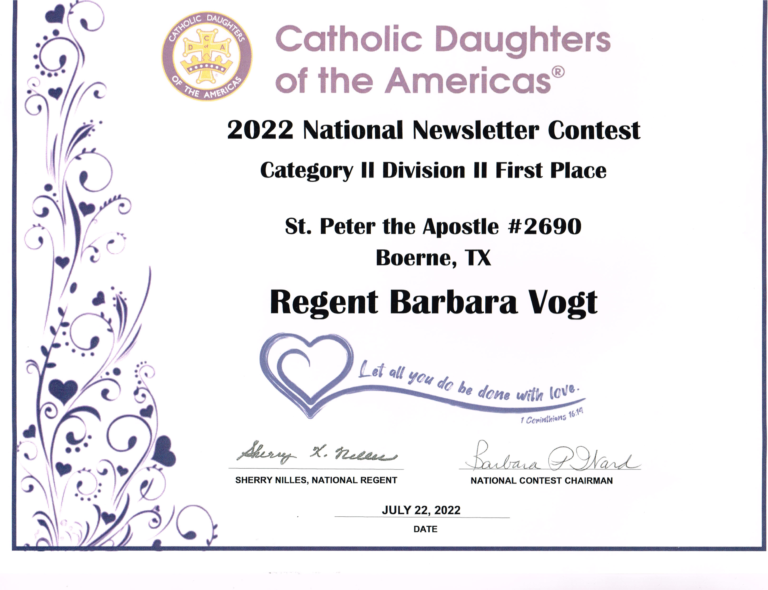 Ree – you are the best….literally!
Ree has been our Editor of the CDA Court #2690 Newsletter for the last number of years and this year was given the honor of winning both in Texas and in the national competition.
Well Deserved Congratulations!


Thank you from ALL of us!
And the good work goes on! 
Because of the generosity of the Tour deBoerne, CDA was given a $3,500 donation to use for the benefit of our local community.  
Thanks to all for the CDA volunteers to help support the success of this event.  
Thanks to Tour deBoerne for being such an extraordinary organization.  
Why Should I Get Involved?
Need more information...can't find something..let us know!
Poinsettia Sale Dec 2021 & 2022
Thank you Peggy! AGAIN!!
In Time of Need
CDA and KOC join forces
to support families
in their time of grief
Bunco Party Feb 2022
"All work and no play
makes "Jane" a dull girl"
CDA helping Veterans
We proudly honor those who serve!
Easter Egg
Drive Thru
April 2022
Together we can
get through anything!

Thanks Heidi!
We are so blessed - Angel Gift Basket time again!
Christmas Parade
Need a ride?